2017
Vuelta
a
Pais
Vasco
Luxury
Tour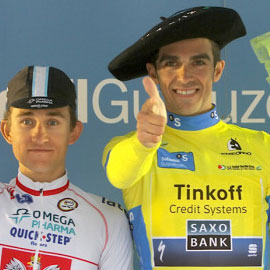 La Vuelta All País Vasco 2017 - Join Allan for a Luxury tour in his own backyard, the beautiful Basque Country. Allan will be conducting a luxury cycling Tour coinciding with the Vuelta Pais Vasco (Basque Country).
Allan was a former Australian professional rider for 12 years who him self has raced the race FOUR times in the past! Allan also speaks fluent Spanish and as lived with his family in the Basque Country near San Sebastian for more than 14 years now. I think its fair to say this tour will be second to none with Allan's credentials and experience.
Allan will arrange premium accommodation at a later stage when the race route is announced for 2017 making sure the clients are in close range of popular tourist attractions as well as the Race.
The Basque Country is proud of its high-quality traditional cuisine and contemporary gastronomic scene. Fish from the Basque coast and ancestral Basque fishing spots are showcased, in particular cod, bream and hake, with light, delicate sauces. Squid cooked with its ink and onion and peppers is a classic. Lamb and steak are especially popular in rural areas and are often made into stews with vegetables, beans and mushrooms. Basque Country is known for "txikiteos," a bar-hopping ritual involving eating small d'oevres called Pintxos, along with small glasses of wine called txikitos.
Highlights:
- Vip treatment viewing the Vuelta al Pais Vasco WOULD TOUR cycling event
- VIP guided tour inside a pro team bus & car, plus a chance to get that photo & signature from your hero ́s of the cycling world
- Full Transportation during the tour with pick up and drop off points on arrival and departure
- Riding Famous cycling routes and climbs from Professional cycling races in the past such as the Vuelta Pais Vasco, Tour De France,Classica San Sebastian.
- Luxury Accommodation with buffet breakfast each day included
- Unique 4 dinners in total, including one very special MICHELIN STAR restaurant, including selected wines and beverages
- Suitable for cyclists and also perfect for non-cyclists and partners
- Cap of 14 clients total
- On-road PERSONAL coaching and advice by former pro rider and director sportive, Allan Davis
- Complementary Allan Davis Cycling Jersey and bib shorts
- One of Allan's greatist guiding skills is his language profile with English, Italian, Spanish and French, making you feel relaxed always - Entry into the world famous Bilbao Guggenheim museum
Book now to win!!
Allan has arranged for one of our guests the chance to win a ride for a day in a Team Car, be right amongst the action in the race. This is a once in a lifetime opportunity and one not to miss!! If you would like to win this money can't buy opportunity, all thats needed is be the first guest to book and pay your luxury trip full payment.
Below you have some of the images of clients attending this trip in the past!
Arzak!
DATES: 02nd April – 9th April, 8 DAYS.

- Cost per client 3200€

Deposit of 1000€ per person is required to secure your booking.

Price does not include airfare or travel insurane and is based on two persons per room, If you are travelling alone we will match you with a person to share, alternatively you can elect to have your own room by paying a single supplement.

This luxury tour is also available for those non cyclists as well, Allan will provide a personal chaperone for you to endeavour the choice of activities this marvellous tour has to offer while the riders do there thing. Please inform myself and Team when enquiring on your booking.

VIEW FULL ITINERARY

BOOK NOW by contacting Allan Davis Cycling via emal to reserve your spot on tour: Contact alby@allandaviscycling.com for complete details.
Please enquire today alby@allandaviscycling.com